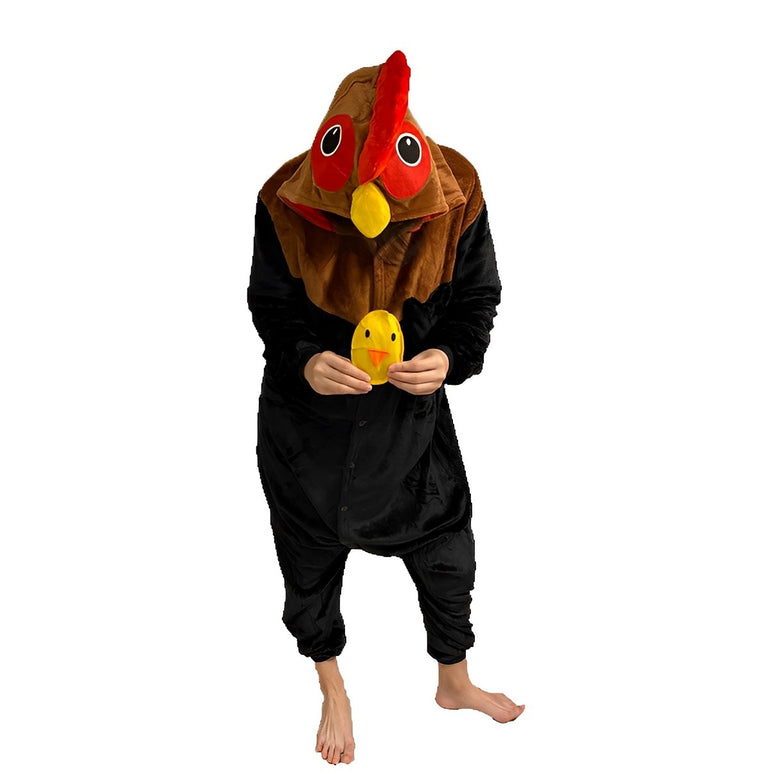 Our Rooster Onesies will make you the most charming little bird in all the parties you will go to. Designed with the best material, you will have a great comfort as well as all the snuggly feeling as you enjoy the night. Winter get-togethers will not be an issue as these overalls are made from premium grade Coral Fleece to warm you up.

The button front closure is added to make sure you have easy access whenever you need a quick change while the baggy design will allow you to be able to move around and have the best time. The elastic ankle cuffs are made to give space for you to adjust the sleeves when you want to. and the wrist sleeves can be transformed into mittens as it extends in the hands. The hood of these outfit has a very fetching chicken eye, a nose and of course, the iconic chicken comb! The left breast pocket also has a very cute detail that includes a little yellow chick inside the adorable patch!
Material: Polyester, Microfiber. 
This onesie comes with Zipper in the back and front button.  
Please refer to our sizing scale below.
Sizing should be by worked out primarily by height, as follows. Please note that weight can sometimes be a factor. If you need help choosing the correct size, email us at office@myonesie.com.au or call  1300 MY ONESIE (1300 696 637):
Size S: Suitable for height 140cm-155cm(55"-61"). 

Size M: Suitable for height 155cm-165cm(61"-65").

Size L: Suitable for height 165cm-175cm(65"-69").

Size XL: Suitable for height 175cm-185cm(69"-73").

Size XXL: Suitable for height 185cm - 190cm(73"-75").

Size XXXL: Suitable for height 190cm - 205cm(75"-81").
If you are unsure about the size, we recommend you should go for one size up as it will be more comfortable and long-lasting.
Package Includes: 1* costume and Size reference Product details. (The shoes are not included)